FREQUENTLY ASKED QUESTIONS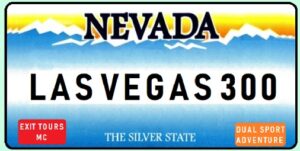 Q: WHAT DO I NEED TO GET STARTED?
A sense of adventure and common sense.
___________________________
 Exit Tours MC Las Vegas 300 is a Club Dual Sport Ride:
Any Competent Rider can Join Exit Tours MC. There are no invitations required. Nor are workdays or meetings required.
The Las Vegas 300 is a 2 day non-competitive rides that consists of as much dirt and the least amount of pavement as possible.
This is a non-guided Club ride on an un-marked loop navigated by GPS Tracks.
This ride is intended for street-legal, plated, insured, quiet motorcycles that are capable of being ridden on dirt roads, two-track, jeep roads, Sandwashes and pavement.
Download the Ride with GPS tracks and use your phone or use the Electronic Cue-sheet on your phone for the tracks of the loops you wish to follow. Believe us, your phone works better than a Garmin with the Ride with GPS app installed.
Or you can easily download the tracks to your Garmin with the GPX file on each track.
Ride with GPS club membership is included with your Exit Tours Club membership.
We ask that you check out on the check out in the morning on the Check-out sheet before you leave in the morning. Check-in on the same sheet when you return both evenings.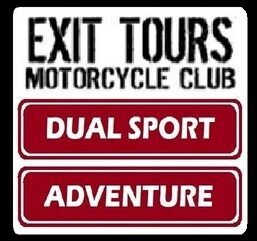 WE WORK TO MINIMIZE PAVEMENT MILEAGE, maximize scenery and fun, and generally only use paved roads as necessary to tie dirt loops together and access amenities.
Any motorcycle event comes down to the rider's skill level and the type of tires installed. If you have the wrong tires your skill level won't really matter, you'll struggle regardless.
We suggest starting with a New front knobby and a hybrid knobby rear tire.
The Las Vegas 300 is a "low-key, high adventure, no hassle" self-guided Club Ride, using GPS Tracks or a GPS Track Cue Sheet roll chart to navigate an unmarked route.
GPS Tracks, maps and Cue sheets will be emailed before the ride.
__________________________
Q: WHO IS INVITED:
Any Competent Rider with a street legal Dual Sport or plated dirt bike, or an Adventure Bike with knobby tires.

Q: WHAT:
Dual Sport Ride around the Las Vegas Valley Loop
Q: WHEN:
Q: WHERE:
SIGN-IN ADDRESS on Friday:         

Hoover Dam Lodge Hotel & Casino            

18000 Highway 93
Boulder City
Nevada 89005
Q: WHAT IS THE COST?
Since this is the last ride of 2023 Club membership can be had for $325, which includes the Las Vegas 300
Or if this is your 2nd or Subsequent ride with Exit Tours MC in 2021 the ride cost is $325
 Anyone you share a Last Name with may ride with a Club Member for $299 at the Las Vegas 300
Q: HOW DO THINGS START?
Sign-In at the Hoover Dam Lodge from Thursday Nov 16 from 3-9 pm
Sign the release, pick up your rider packet.
We will have emailed GPS tracks and maps.
Riders Meeting at 9 AM and 6 PM on Friday
Riders meeting in the morning at 6:30 and 7:30 am on Saturday.
You only need attend one meeting each morning.

We suggest leaving early Saturday Morning.
Riders meeting at Breakfast from 7 AM on Sunday
Enjoy a fun ride to El Dorado Canyon and the Colorado River on Friday.
 Or an Easy Night Ride to the Hoover Dam and the Lake Friday Night.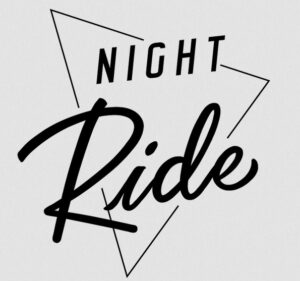 Q: DO I HAVE TO BE A CLUB MEMBER?
Yes. Your Membership is included with your first ride.
There is no qualifying or probation period to become an Exit Tours Motorcycle Club member and there are no required meetings or work days associated with your membership — just sign-up and ride!
Q: WHAT KIND OF HAZARDS EXIST?
Hazards do exist on our routes: Such as downed trees, washouts, rocks, etc. and will NOT be marked in any fashion. 
All routes are publicly-accessible, so you may encounter other riders and traffic.
Riders need to use caution and common sense at all times and stay to the right when possible. 
Particularly around blind turns.
Remember vehicles heading uphill have the right-of-way.
Q: WHAT TYPE OF MOTORCYCLE SHOULD I RIDE?
Factory off-road orientated Dual Sport, plated Off-Road Motorcycles 
Adventure Motorcycles will work for competent riders.
You should have current registration for your bike.
Proof of insurance.
A GPS Unit or cell phone is required to navigate the routes. Or ride with someone you trust.

You should have a way to Charge and hold your phone.
Q: HOW LONG IS EACH DAY'S RIDE?
Ride length varies to around 150 miles.
There are options to jump on the pavement on the routes and head back.
These options can be clearly marked on the ride map which is not suitable for trail navigation.
Q: FUEL RANGE AND FUEL STOPS?
Approximately 80 miles between fuel stops.
Fuel is available for purchase at gas stations along almost the route.

You must bring a cc or cash to purchase fuel
We suggest you carry an Aluminum water bottle if you don't have a big tank.
Q: WHY ARE YOU GUYS DOING THIS?
The time is right before we're all too old to pull something like this off.
If we don't do it now, the opportunity may not be available in the future.
Q: HOW SHOULD I SET UP MY MOTORCYCLE?
We recommend a knobby front and a DOT knobby rear tire.
Checking your air pressure once you get there.
Run your tire air pressure a little higher than normal.
Skid plate.
Disc guards.

Hand guards.
Distance between gas stops is not expected to be much more than 80 miles.
Carry extra fuel in an Aluminum bottle if you do not have a big tank.
Aggressive knobby tires are recommended. 
50/50 tires will not work well. Trust us on this.
Q: HOW CAN I GET TO THE START?
Park in the parking lot at the Hoover Dam Lodge.
Stage from the Parking Lot.
Leave your truck at the Hoover Dam Lodge for the weekend.
Drive your truck and trailer to the staging area and unload there in the morning.
Leave your truck & trailer at the Staging area if you choose to stay elsewhere. Ride your motorcycle to your lodging.
Q: WHERE DO WE MEET ?
Sign-In will be in the the Hoover Dam Lodge & Casino parking lot.

The Riders meeting will be in the Parking lot at Sign-In outside the Hoover Dam Lodge.
Please check-in the day before the start and pick up your ride package.
Please check-out at the riders meetings on the Check-Out in the mornings before you leave so we know you are on the trail.
Check back-in upon arrival each evening.

Q: WHAT HAPPENS AT THE 1st DAYS FINISH?
Please check-in when you finish, so we know you are in.
Pick up your bag, check into your room.
Come back and hang out, enjoy a beverage, Gamble, play a game, and enjoy the camaraderie of your like-minded enthusiasts…
**IMPORTANT** Please check-out on the sign-out sheet before you leave in the morning and check back-in when you finish for the day.
Q: HOW DO I NAVIGATE THE ROUTE?
This are not a guided tour.
You will navigate by following GPS Tracks or an electronic Roll Chart on your phone.
Or by Voice Navigation with a plug-in headset or Blue-tooth
Pre-printed maps not suitable for navigation are available for you to print to give you a general idea of the route.

Maps are not suitable for navigation.

We suggest having a compatible phone and resetting your odometer at the start.
GPX Tracks are available for a GPS Unit on Ride with GPS.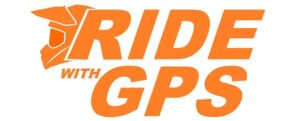 Q: WHAT IS THE BUDDY SYSTEM?
It is what can save your life!
If you were riding alone and got off the route and then got hurt, you may not be missed until the end of the day.
For this reason we must insist that riders use the buddy system.
Obviously 2 (or 3) riders that enter together will be buddies (4 or more should split into pairs).
Team up with others and watch out for each other.
BUDDY RIDING PROTOCOL –
Don't lose sight of your buddy
Don't make a major turn unless you know your buddy will also. Wait at major turns.

If buddies get separated, both go back to the last place they saw each other
Pair up with at least one other rider so that you can look after each other.
Your ride will be enhanced if you ride with others who are:
Of the same skill level
Riding similar motorcycles

Have compatible desires for the ride
Speed of travel
How often to stop for a rest, pictures, etc.
Q: WHAT IF I ENTER ALONE?
We prefer that you enter with at least one friend but if you do come alone, we will have a sign up sheet where you can write your cell number if you haven't found a buddy before the ride.
You should pair with another rider as your buddy.
Buddies may be changed after the 1st day if not well matched. 
Q: WHAT MODEL BIKE IS BEST?
Riders could be happy with CRF250L's through 701 Husky's and anything in between.

We Do NOT suggest small factory dual sports < 250cc.
You should be a competent rider to ride an Adventure Motorcycle on the Las Vegas 300
Q: WHAT ABOUT SPARE PARTS?
You should bring a reasonable amount of spare parts (like a pre-oiled air filter).
We will have spare front and rear tires and tubes for sale in case someone destroys one, but most people should be able to complete the ride without changing tires.
Q: DO I NEED ANY SPECIAL EQUIPMENT TO NAVIGATE?
You should have a compatible phone and an odometer or a GPS unit.

A way to charge your phone is imperative
You will need to Download the RIDE With GPS App for your Phone or computer for your Garmin.

Q: WHAT IS THE REFUND POLICY?
There are NO REFUNDS less than 60 Days.

If you withdraw before a ride your payment for shared group expense amenities will be forfeited or MAY be transferred to another rider.
A $20 Fee @ Sign-In will be required for Rider Changes.
If Exit Tours Motorcycle Club cancels a ride we will make all attempts to provide an equivalent ride on an alternate date. 
If we do this then your prepaid shared group expense payment may be transferred to the new ride date, or if you cannot attend the new date, a 100% refund for shared group expenses will apply less PayPal Fees.
Our rides are all-weather. Rides will not be cancelled.
Regardless of weather conditions, and refunds will not be given for shared group expense amenities. Nor will they be transferred to another ride or rider.
Q: WHERE WILL I GET GAS and WHAT ELSE DO I NEED TO KNOW?
You will need Cash or a CC to buy your gas at the gas stations and meals on the loops
Bottled water will be available
Trail Snacks will be available
Bathrooms will be on-site.
Exit Tours Motorcycle Club rides are not competitions, nor are trophies awarded.
All participants are on their own, riding at their own pace, at their own risk, and always have the option to follow the designated route or to follow another route of their choosing.