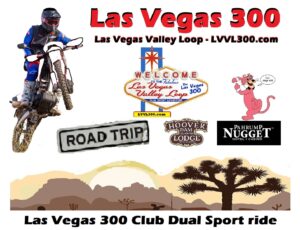 LAS VEGAS 300 NOV 15-18 2024
With temperatures falling in November, some of us might be considering which fuel stabilizer to buy. But if you live in the southern US or can travel, you might be getting excited about the weather finally cooling off.
Cool weather makes desert riding a lot more comfortable, and to hit the trails in this more friendly climate, you could get to the Las Vegas 300 in mid-November.
2 Weekends before Thanksgiving.
The Las Vegas 300 is a Club dual sport ride that runs around the outskirts of Sin City. Any competent rider can Join.
The original Las Vegas Valley Loop was laid out by Ross Williams and Chuck Sun.
Mr Williams is a very competent and raced National Pro Motocross at a high level in the late 70's / early 80s. Ross now owns the Sawmill Station in Idaho. Chuck Sun was a Team Honda star and was on the winning MXdN Team in 1981, which started the US MXdN domination for the US for many years.
Exit Tours MC, the Club organizing the event since 2020, says they had to re-route the section around North Las Vegas in 2021, when some of the original riding area was turned into a Wilderness Study Area.
This year, the fun starts on Friday, November 15, with a ride to the Colorado River and El Dorado Canyon, and the richest abandoned gold mine in Southern Nevada.
This Friday During the Day loop is around 80 miles roundtrip to the mine.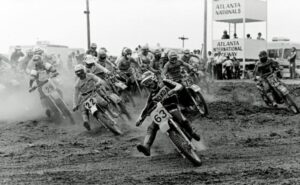 You can also check out the Hoover Dam, and go for a short night ride to the lake if you wish on Friday, since you're staying right there at the Hoover Dam Lodge. Or you're sleeping in the parking lot in an RV or your truck.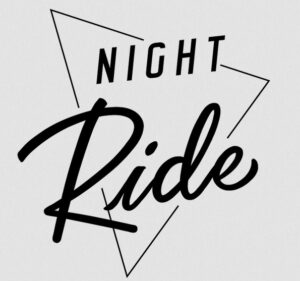 After an included breakfast Saturday morning, you're on the trails, running across dry lake beds, sandwashes, 2 track jeep trails and up mountain passes to get to Pahrump. Without many annoying whoop sections en route, the organizers say.
Saturday night ends at the Pahrump Nugget Hotel & Casino; where the club will portage your overnight gear from the Hoover Dam Lodge, where the day started.
Sunday morning starts with a breakfast banquet emcèed by Trailblazer Hall of Fame member and Orange County Dualie founder Larry Langley.
Then you're headed back to the Hoover Dam Lodge on your choice of 3 loops. The challenging course is 175 miles. There's a mid-difficulty loop that's 200 miles long, and an easy loop about the same length.
Riders will traverse the 7,700-ft Wheeler Pass to the north of Las Vegas for a fun section on all 3 loops, then the 6,800-foot Mormon Pass on the 2 longer loops, then back to Hoover Dam Lodge.
On Monday, things move on to Tecopa, California, with a stay at Delight's Hot Springs Resort. There, you can ride mapped-out tracks to the Gunsite mine and the China Ranch Date farm near Death Valley.
This is intended to be a dual sport, ride, but last year a couple of riders did it on KTM 790 Adventures, and another rider and his wife completed the ride on a pair of Yamaha T7's in '22, so if you're feeling it, maybe you can show up on a multi-cylinder bike?
The LV 300 is a club ride limited to 60 Riders. Any Competent rider can join.

The GPS tracks for the route will work on the Ride with GPS phone app, and the route should be doable by any competent rider. There is a chase truck as well. Exit Tours MC says this is an "Associate Member Club Ride" that will cost you $375 to join.
There are easy options to finish both Days if you wish.
For other important INFO, check out the Las Vegas 300 Facebook page for the event.
Las Vegas 300 on Facebook: https://www.facebook.com/lasvegas300
Or the 2 website Links:
Las Vegas Valley Loop home page: https://LVVL300.com
LV 300 on ADV Tours: https://advtours.com/las-vegas-300/