THE LAS VEGAS 300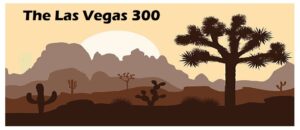 NOVEMBER 18-19 2023
The Las Vegas Valley Loop is a Fun weekend 300 mile 2 Day Club Dual Sport loop that circumnavigates Las Vegas from the Hoover Dam Lodge & Casino, outside Boulder City, Nevada to the Pahrump Nugget Hotel & Casino in Pahrump, Nevada. And back. The Weekend before Thanksgiving.

A 2 Day Club Dual Sport ride:
Gear Portage
Chase truck.
Discounted Lodging.
Sunday Morning Breakfast.
Ride with GPS phone compatible tracks for Navigation.
Enjoy the camaraderie of Like-minded enthusiasts.
Loop options are available on Sunday.

Keep reading to learn more…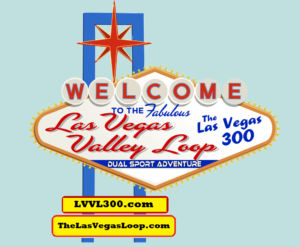 The '23 version of the Las Vegas 300 Dual Sport adventure ride will take place from November 17- 20, 2023.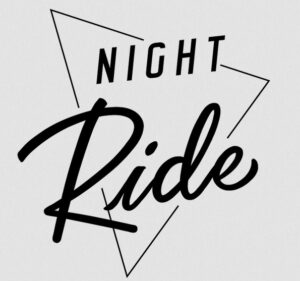 Arrive at The Hoover Dam Lodge on Thursday the 16th. Or Friday the 17th. Enjoy a fun ride to El Dorado Canyon on Friday.  The Techatticup Mine in El Dorado Canyon is the oldest and richest Gold Mine in Southern Nevada. It ran from 1861 until 1942.  Steamboats on the Colorado River were the main way to arrive here for 40 years. Tours are available of the Techatticup Mine, or you can ride down the the Colorado River and the old Steamboat landing on Friday on a approx 100 mile loop.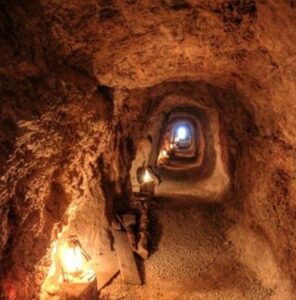 Or go for an easy Friday Night Ride to the Dam and the Lake.
Ride to Pahrump on Saturday 18th and Return to the Hoover Dam Lodge on Sunday 19th. On Monday the 20th move to a Hot Springs near Death Valley if you wish.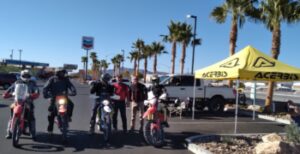 Visit Delight's Hot Springs near Death Valley on Monday the 20th if you wish. Go for a 35 mile loop to the Gunsight Mine and the China Ranch Date Farm. Soak in the therapeutic waters of the Hot Spring Monday night.

The Las Vegas 300 is a Club Dual Sport Ride limited to fewer than 70 competent riders.
Join the club ride as an associate member and the Las Vegas 300 is included. No Meetings, work-days or Politics.
DOWNLOAD FLYER
FLYER Las Vegas 300 Dual Sport 23

SIGN-UP LINK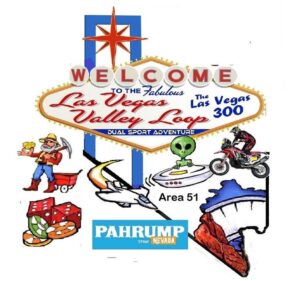 Sign-In at the Hoover Dam Lodge from 3pm on Thursday Nov 16 2023.

START TIME for the Dual Sport ride to Pahrump:
6:30 AM to 8 AM on Saturday the 18th
Ride to El Dorado Canyon on Friday the 17th from 9 AM
Night Ride from 6 PM to the Hoover Dam & the Lake on Friday the 17th.
The ride to Pahrump is Saturday and Sunday Nov 18-19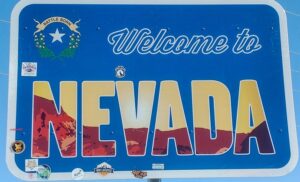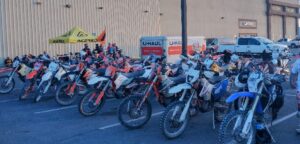 Discounted Lodging is available, Gear portage so you may ride unencumbered. Fuel is available at 80 miles or less. Breakfast Sunday Morning is included in Pahrump at the Pahrump Nugget.
Any competent rider can join Exit Tours MC.
No qualifying, no required meetings, no required work parties, no politics.

Just sign-up and you're in.

For '23 bring your Adventure bike with knobbies if your up for a Challenge.
GET OFF THE COUCH AND COME ENJOY NEVADA IN LATE NOVEMBER.
Spend Thanksgiving at home with your Family ?
RIDE WEBSITE
LVVL300.com

SIGN-UP INFO LINK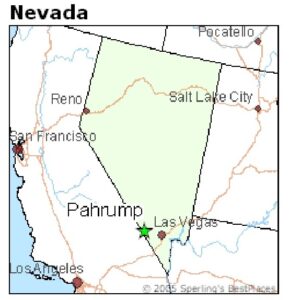 Follow The Las Vegas 300 on Facebook: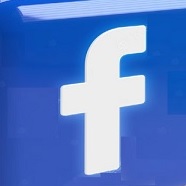 Join the Facebook Las Vegas 300 Dual Sport Group Page