THE LAS VEGAS 300
The Las Vegas Valley Loop is a 300 mile Dual Sport loop that circumnavigates Las Vegas from the Hoover Dam Lodge & Casino, outside Boulder City, Nevada, to the Pahrump Nugget Hotel & Casino in Pahrump, Nevada.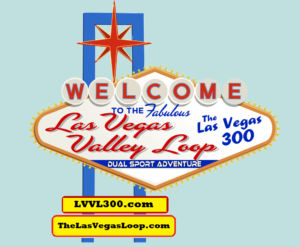 The Las Vegas 300 Dual Sport Adventure Ride will take place November 19 – 21, 2021. This two day Dual Sport ride starts and returns to the Hoover Dam Lodge & Casino outside Boulder City, Nevada on Saturday. Heads to Pahrump, NV. on Saturday night.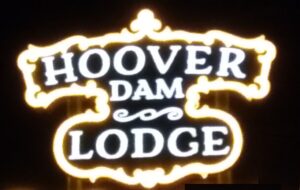 Sign-in will take place Friday, November 19 in the afternoon & evening at the Hoover Dam Lodge. Friday evening there will be a $100 buy-in poker tournament for all who wish to participate.

A few of Last years riders in front of Lake Mead at the Hoover Dam Lodge & Casino
Saturday morning after the included coffee and breakfast, we will have a rider meeting at 7 & 8 AM and commence with the ride to Pahrump. (You only need attend one meeting)
This year, we will ride south around Las Vegas over the mountains to the Pahrump Nugget Hotel and Casino where you can dine, gamble if you wish, and spend Saturday night in Pahrump.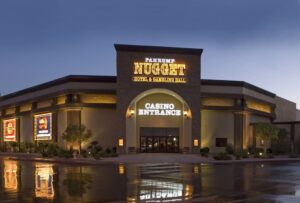 Pahrump Nugget Hotel & Casino
Sunday Day 2 will take us north and east over the mountains and around the city of lights and action.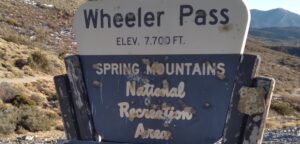 Sunday morning, we will take the northern route to 7,700 foot Wheeler Pass, Indian Springs, Valley of Fire State Park and Lake Mead Nat'l Rec area and return to the Hoover Dam Lodge. Through epic sandwashes and on old mining roads.
The Club will portage your gear to Pahrump and back.
The Included post ride banquet and sponsor product give-away will be at the Hoover Dam Lodge Sunday evening.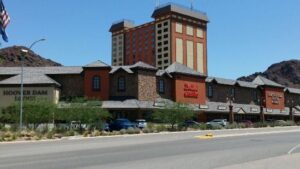 Hoover Dam Lodge & Casino
This Las Vegas Valley Loop uses 2 track, dirt roads and jeep trails which crosses a variety of terrain…mountains, valleys and desert to make a challenging and interesting ride for all.
The route is suitable for Dual Sport and licensed dirt bikes with proper liability insurance. This route is not suitable for beginners or Adventure Bikes.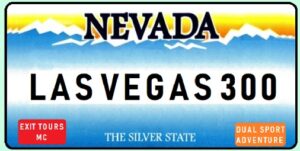 This event will be limited to 75 riders. Since this event will be the last of the season event cost will only be $199 which will include: Exit Tours MC membership, Ride with GPS tracks, Ride with GPS Tracks Club membership, Saturday and Sunday breakfast and Sunday dinner, Luggage Portage , Chase Truck, Discounted Lodging and a T-shirt and Participant Pin.
As an option, Monday the 22nd, some may go to Tecopa, CA, with their transport vehicles, to Delights Hot Springs Resort to spend the night and soak in the Hot Springs.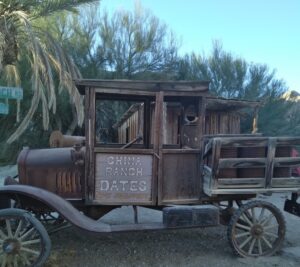 Old Truck at the China Ranch Date Farm
From Tecopa on Monday you can ride to an interesting old abandoned mine on a RR right of way, the China Ranch Date Farm and Death Valley is nearby.

Old Mine near Tecopa
For those coming from California, this is a shorter path back to Baker and I-15 after your stay in the Las Vegas area.
In addition, the LA2B2V (Los Angeles to Barstow to Vegas) Dual Sport ride is the following weekend, which could make for an epic road trip if you were to do both.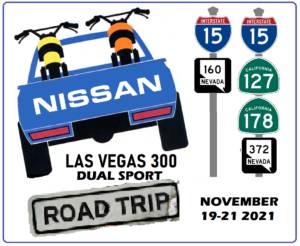 Road Trip Nov 19-21 2021
Despite Covid restrictions, the 2020 event occurred, offering the opportunity for Dual Sport riders to enjoy the Las Vegas Nevada area. Get away and ride and still have Thanksgiving at home with the family .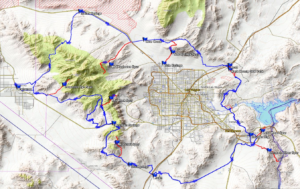 LVVL Loop
This Las Vegas Valley Loop was established by Ross Williams and Chuck Sun, both extremely experienced riders.
Mr. Williams owns The Sawmill Station in Clayton, ID and is an accomplished MX racer.
Chuck Sun was the 1980 500cc Nat'l MX champion and a member of the 1981 MXdN team, helping to establish the US dynasty at the Motocross des Nations.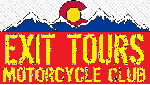 Exit Tours MC of Colorado will host and promote the (LVVL) Las Vegas 300 with thanks and appreciation to Ross and Chuck.
Come enjoy the camaraderie of like-minded enthusiast's and EXCELLENT riding on this Dual Sport adventure!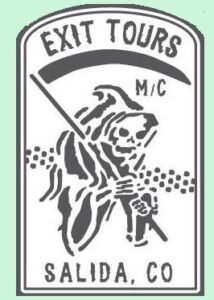 GET OUT OF THE HOUSE IN 2021 AND ENJOY NEVADA IN LATE NOVEMBER. Spend Thanksgiving at home with your Family ?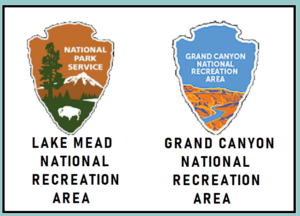 WEBSITE
https://LVVL300.com/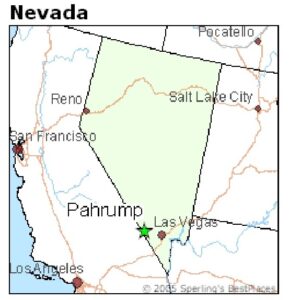 The Las Vegas 300 on Facebook